123 Kids Fun Alphabet
by RosMedia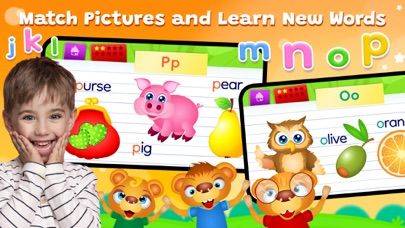 This is a cute ABC app- each letter name is spoken as the child advances through the app, along with a short sentence, i.e. "L is for lamp". There are several animations and sound effects for each letter, and the illustrations are charming- the voice is pleasant as well. Depending on which camp of reading strategies you belong to, you may or may not appreciate some of the word choices, such as knife for the letter k. I really like the alphabet letter tracing- it helps keep children in the lines with cute car themed guides. I don't know much from an OT perspective about the letter strokes, so it would be interesting to get feedback in that area about that as well. It captured my 5 year old's attention. It also got him practicing his letters, and it jumpstarted a good discussion about silent letters, too!
REQUIRES iOS 6.0 or higher- so not for original iPad
123 Kids Fun Alphabet Description (from developer)
123 Kids Fun Alphabet is designed for all children (ages 3 to 7) to start their adventure with the alphabet.
It is also recommended for teachers. Each letter has been illustrated with four words, one of which is animated and enriched with a sound characteristic for a specific object. Just tap the first picture of each letter.
The combination of letters with pictures and a readers' recording is a very effective method to quickly and enjoyably learn the alphabet.
The Application also includes three interactive games:
💎 The goals of two are to memorize the knowledge acquired earlier. Your child points at letter or words read by the reader.
💎 The third game is to teach the child to write letters by joining points on a special template.
The Application is prepared in a way to allow your child to independently learn the alphabet without your assistance.
Features:
🎨 Very clear and easy-to-use application.
🎨 Colourful animations and drawings.
🎨 English lector.
🎨 Educational games: quizzes.
🎨 Interactive learning on how to write letters.
🎨 Background music off/on option.
🎨 NO ADVERTISING,
🎨 NO InApp PURCHASES.
-=-=-=-=-=-=-=-=-=-=-=-=-=-=-
Become a fan of 123 Kids Fun Apps on Facebook:
http://www.facebook.com/123KidsFun
Follow us on Twitter:
http://twitter.com/123KidsFunApps
Visit 123 Kids Fun Apps website:
http://www.123kidsfun.com