Baby Learns Simple Shapes by Bebebe Co.
($2.99, iPad/ iPhone)
INTRODUCTORY PRICE OF 99 CENTS
An early learning app all about shapes, geared toward little ones, 12 months and up! Multilingual/ voice recording options! More information on this app is located at the
Appy Mall
.
.
Links/ Contact Info:
Youtube demo:
youtube=http://www.youtube.com/watch?v=BMzNMZEQpTk
Website:
Baby Learns
Facebook Page:
Baby Learns
Twitter:
@Baby_Learns
You Tube:
Baby Learns
App:
Baby Learns Shapes
This app has the title "baby" in its title but this is totally appropriate for kiddos like my 5 year old- he can practice the names of common shapes through several activities, and then earn items to play within the app's "magical world" as a reward. You can also use this to practice a foreign language (see Baby Learns Simple Objects if this is your main goal).
The three main learning activities are very engaging on their own- even the "Learn" mode, where children can learn each shape's name by tapping on it, manages to be interactive- the shapes do funny things like dance to a beat box, water a plant, or play on an iPad, and so on. A second activity works on receptive skills (they check for understanding, i.e. when the announcer says "star", the child must look among the choices and place it in the truck.) The third activity, a set of 4 interactive shape puzzles, is a personal favorite- each scene comes alive with movement after the puzzle pieces have been placed- for example,a boat moves across the water, a fish swims in the ocean. One question though- why doesn't the train toot?
A magical reward land can be accessed through the tent symbol on the main page. The more you play the receptive identification activity, you are rewarded with virtual, interactive stickers to place in the world. Feed items to the animals to see their reactions- the sheep is adorable. Tap on the tree house to go inside it for more interactive fun. There is a spaceship you can enter too, but we haven't yet figured out what to do with it.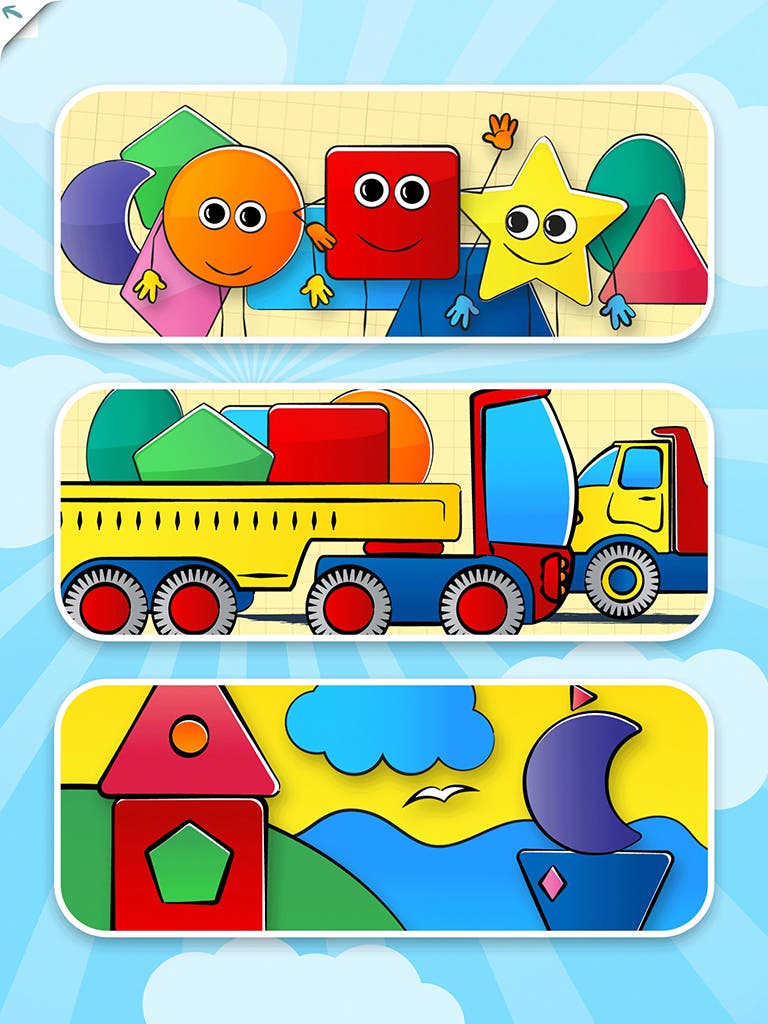 The graphics are another plus- bright colors with simple, uncluttered scenes. I also appreciate how game play is set up- there is only positive reinforcement for correct answers; incorrect answers are ignored; the shape simply falls back into place and the child can try another. Another standout feature is the voiceover library, which allows anyone to record their own set of verbal labels for the shapes taught in the app. English, French, Russian versions are provided, and you can download other recordings within the app or upload your own and share, if you want) Right now voiceovers for Spanish, Ukranian and Belarusian language are also free to download. I
There is also a place for parents hidden on the main page- tap the left hand corner where it tells you to to find links to social media, other Bebebe Co. apps and instructional videos, etc.
The only thing I don't quite understand is the built in background noises within the app- the soundtrack features some light background sounds like construction in the distance, tapping of chalk on a board, and so on. I have sensitive ears and found this a little bit distracting- I would love to have some kind of volume dial so sensitive kids could slowly acclimate themselves to this background noise, or perhaps an On/Off button in the Settings.
Enter here for a copy of your own Baby Learns Simple Shapes app:
a Rafflecopter giveaway