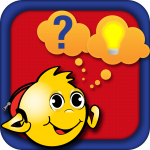 Kidspiration Maps
by Inspiration Software, Inc.
( iPad, $9.99 at time of review)
Tweet
Kidspiration Maps
by Inspiration Software, Inc. is from the maker of
Inspiration Maps
(early version
reviewed here
) . It is a visual and interactive mind mapping and graphic organizer tool for kids, preloaded with activities divided up into the following categories: Reading & Writing, Social Studies, Science, and Math.
Of course you can make your own customized activities too! There are some "SuperGrouper" templates to help you create classification and categorization activities. This includes scene buttons, shapes, thought clouds and a Venn Diagram. One of the unique features of this app is the Diagram/Writing button, which flips between a diagram view (graphics), and a writing view (list) for that same activity.
In Writing View it is very easy to rearrange elements by dragging and dropping. You can add sentences or phrases to support a graphic here- you can choose to show a small graphic for each thought or replace with bullet points etc. I also find it helpful to switch to this view after creating an activity to add recordings- tap each element and choose the thought bubble with pencil icon to add a new recording.
What I like:
Premade activities
Ability to edit Premade activities with custom content
Easy to use, customizable interface- Create own activities easily, drag or tap to add items-even hyperlinks; re size items with a finger pinch, change colors, use your own photos - then use, print or share!
Scrolling icon library (Over 1,400 symbols sorted into categories)
Visual feedback- when an item is selected on a screen it becomes outlined in blue or green
auditory feedback- add recordings to elements on the screen to use as instructions or to support written labels.
A new update in January has introduced an image search feature for quicker access!
Wish List:
(I always have one!)
A frame "lock"
- currently all elements of an activity board are freely movable- having the ability to "freeze" or "lock" an activity's background images would be so helpful for students who are distracted by this, or for those with less motor control.
A Clear all button
- to clear all icons to start an activity fresh
The ability to add our own icons and photos to the icon library for quick access
- the existing library is limited in some areas, especially the food- currently there is no "cereal" or "nuts" icon, among other missing favorite foods.
A Drawing Tool
so students can learn by adding their own creations to each activity.
Some of my creations: